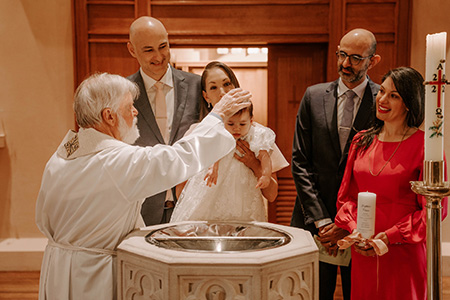 In the teaching of the Catholic Church, Baptism is the Sacrament which formally defines entry into and membership of the Church. The baptised are opened up to the promise of the eternal life of the Trinity and to human life as disciples of Jesus Christ.
Baptism is usually celebrated in the residential parish of the infant or child. Parents from outside the parish who request baptism for their child are asked to contact their proper Parish Priest for a note of permission.
Since the request for Baptism is in the Catholic Church at least one parent and one godparent has to be a baptised and confirmed Catholic.


Parents are asked to contact the Parish Office after the birth of their child, earlier rather than later.


Baptisms are celebrated at 12:45pm on the 1st Sunday of the month at OLOL and at St Peter's on the 2nd and 3rd Sunday of the month.


We welcome you to come to one of the Sunday Masses at least one week before the date of Baptism. Since your child will belong to the community of faith, it is important that the parish should welcome and pray for your child.
Our Pastoral Associate, Delisa Gonsalves, will contact you to arrange and attend a Baptism Preparation Class and reflection, if one is required.


A copy of your child's Birth Certificate is also required.
An offering for the support of the Celebrant is customary.
Please complete our contact form below