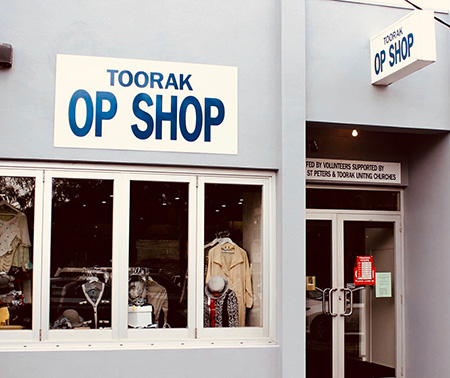 The Toorak Op Shop is a treasure trove of designer labels at amazingly low prices. The professional presentation of the merchandise, high levels of quality control ('we only put the best on display') ensures the Op Shop's reputation as Melbourne's best.
Visit us at 1A Carters Ave, Toorak to discover our vast array of merchandise and collectibles, including fashion, accessories, shoes, jewellery, watches, linen, china, books and much, much more.
The Op Shop is run by a team of dedicated volunteers, with proceeds being distributed each year to over 25 charities nominated by the Toorak Ecumenical Churches.
Open Monday to Saturday 12 noon to 4pm.
Phone: (03) 9827 3172
Email: This email address is being protected from spambots. You need JavaScript enabled to view it.
Follow the Toorak Op Shop on Facebook:
https://www.facebook.com/toorakopshop